Reinhard Lestrange
Biographical information
Born

c. 1926

Died

17 November, 1981

Blood status
Matrial

Married

Title(s)

Death eater

Physical description
Species
Gender

Male

Hair colour

Black

Skin colour

Light

Family information
Family members
Affiliation
House
Loyalty

Tom Riddle's gang
Death Eaters
Lestrange family

.
"Lestrange, I want that essay on my desk by tomorrow or it's detention. Same goes for you, Avery."
—Horace Slughorn to Lestrange
Reinhard Lestrange (born c. 1926 – 17 November, 1981 ) was a pure-blood wizard and a Slytherin student at Hogwarts School of Witchcraft and Wizardry. He was a member of Tom Riddle's gang when they attended Hogwarts, a member of the Slug Club and one of the earliest Death Eaters..
Biography
Edit
Early life
Edit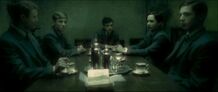 Reinhard Lestrange attended
Hogwarts School of Witchcraft and Wizardry
, and was sorted into
Slytherin
house, eventually becoming a member of
Professor
Horace Slughorn
's
Slug Club
. He was also a member of
Tom Riddle
's
gang
when they were classmates. During his time at school, Lestrange forgot to turn in a
Potions
essay for
Professor Slughorn
and was nearly put in detention. After Hogwarts, Lestrange became one of Voldemort's first Death Eaters.
Post-mortem
Edit
After Reinhard's death, his fortune and spent his legacy to his two sons, Rodolphus and Rabastan. Both like his father joined the Dark Lord side and continued to preach the desire of Voldemort. Reinhard had a grandson who had never met named Agamenon, who did not follow in the footsteps of his grandfather or even father.
Ad blocker interference detected!
Wikia is a free-to-use site that makes money from advertising. We have a modified experience for viewers using ad blockers

Wikia is not accessible if you've made further modifications. Remove the custom ad blocker rule(s) and the page will load as expected.