Oliver Rivers
Biographical information
Born

c. 1980

Died

2 May, 1998

Blood status
Title(s)

Chaser

Physical description
Species
Gender

Male

Hair colour

Dark

Eye colour

Green

Skin colour

White

Affiliation
House
Loyalty
.
Oliver Rivers was a pure-blood who wizard began attending Hogwarts School of Witchcraft and Wizardry in 1991 and was sorted into Slytherin house. In its fifth year, Oliver was with Crabbe and Goyle during the class where the Professor Trelawney had been inspected by Dolores Umbridge. He was the chaser in the Slytherin Quidditch Team replacing Vaisey. Oliver also fought in the Battle of Hogwarts, but against his will. He had been forced by Draco Malfoy to do to protect the Room of Requirement with Theodore Nott, while he, Crabbe and Gregory Goyle invaded the room. However, the corridor where they were had been attacked while out Draco and the others were still in the room. He and Theodore yelled that were Slytherin and both would be spared, but the crossfire almost the rightfulness. Nott escaped, but Oliver was accidentally killed by a Death Eater.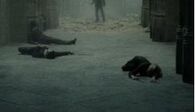 Ad blocker interference detected!
Wikia is a free-to-use site that makes money from advertising. We have a modified experience for viewers using ad blockers

Wikia is not accessible if you've made further modifications. Remove the custom ad blocker rule(s) and the page will load as expected.