Hugo Weasley
Biographical information
Born

14 November 2008

Blood status

Half-blood

Physical description
Species

Human

Gender

Male

Height

5"10

Hair colour

Wood Brown

Eye colour

Sky blue

Skin colour

Fair

Family information
Family members

Ron Weasley (father)
Hermione Weasley (née Granger) (mother)
Rose Weasley (sister)
Arthur Weasley (paternal grandfather)
Molly Weasley (paternal grandmother)
Mr. Granger (maternal grandfather)
Mrs. Granger (maternal grandmother)

Magical characteristics
Boggart

Unknown

Wand

Unknown

Patronus

Unknown

Affiliation
House

Ravenclaw

Loyalty

Ravenclaw
The Weasley Family
The Granger Family
The Prewett Family

.
Hugo Weasley (born 14 November 2008) was a half-blood wizard and the child of Ronald Weasley and Hermione Granger. He has an older sister named Rose who attended Hogwarts School of Witchcraft and Wizardry from the 2017-2018 school year onwards.
Biography
Edit
Hugo Weasley was born on November 4, 2008 to a pure-blood father and a Muggle-born mother, making him a half-blood. He is about two years younger than his sister Rose, and around the same age as his cousin Lily Potter, daughter of Harry and Ginny Potter, and the two seem to be quite close.
He, along with the rest of his family, attended the 2014 Quidditch World Cup and sat in VIP Box Two. He was supporting Brazil in the final Brazil-Bulgaria match, as were his sister and father, but his mother remained neutral.
In 2017, he accompanied his parents to see off his sister and his Potter cousins to Hogwarts School of Witchcraft and Wizardry. Hugo and Lily shared an eagerness to go to Hogwarts, despite both of them being too young. At King's Cross Station, the two had "an animated discussion about which House they would be sorted into when they finally went to Hogwarts".
Although it is not specified when, it is likely he will attend Hogwarts when he turns eleven.
Physical appearance
Edit
Hugo has his father's blue eyes and his mother's brown bushy hair, although in the movie adaptation, he is pictured with red hair.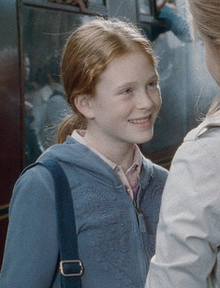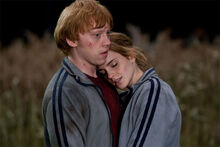 Ad blocker interference detected!
Wikia is a free-to-use site that makes money from advertising. We have a modified experience for viewers using ad blockers

Wikia is not accessible if you've made further modifications. Remove the custom ad blocker rule(s) and the page will load as expected.