Demelza Willians
Biographical information
Born

c. 2002

Blood status
Title(s)

Chaser

Physical description
Species
Gender

Female

Hair colour

Red

Eye colour

Honey

Skin colour

White

Affiliation
House
Loyalty
.
Demelza Willians was a student at Hogwarts School of Witchcraft and Wizardry, Sorted into Slytherin House. She was a Chaser for the Slytherin Quidditch team, and was noted to be particularly skilled at dodging Bludgers.
Biography
Edit
Education at Hogwarts
Edit
Early years
Edit
Upon her arrival at Hogwarts School of Witchcraft and Wizardry Demelza was sorted into the house of Slytherin. Demelza had a talent for the sport Quidditch and at some point (between her first and fourth years) she got a job as a chaser of the team for her house.
2017-2018 school year
Edit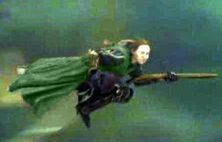 In 2017, after graduating from the former team captain, Estace Birch, the Slytherin Quidditch team was led by
Eric Laughalot
. Demelza was also present during the testing for new players who showed
Albus Potter
as a good seeker.
Demelza demonstrates a strong desire to be able to curse those who are not pure-blood, but is forced to hold back because of the pact she had with Albus. She also shows to be an enemy of the player's rival Gryffindor, Anastacia Aston.
.