Clarence Avery
Biographical information
Born

c. 1926

Blood status
Matrial
Title(s)

Death Eater

Physical description
Species
Gender

Male

Hair colour

Blond

Skin colour

Pale

Family information
Family members
Affiliation
House
Loyalty

Tom Riddle's gang
Death Eaters
Avery family

.
"Lestrange, I want that essay on my desk by tomorrow or it's detention. Same goes for you, Avery."
—Horace Slughorn to Avery.
Clarence Avery (born c. 1926) was a wizard and a Slytherin student at Hogwarts School of Witchcraft and Wizardry. He was a member of Tom Riddle's gang when they attended Hogwarts, and was a member of the Slug Club. He has two sons, each of a marriage. One of his sons became a Death Eater like him, the other other just a follower of Voldemort.
Biography
Edit
Early life
Edit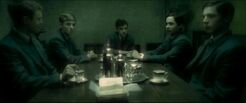 Avery attended at Hogwarts at the same time as
Tom Riddle
, and was sorted into
Slytherin
house. He became a member of
Riddle's gang
, and was a favourite student of
Horace Slughorn
. Avery was present at the same
Slug Club
meeting in
1944
or
1945
as Tom Riddle and was reprimanded by the Potions Master for failing to hand in a particular essay.
First Wizarding War
Edit
During the First Wizarding War, Clarence fought on the Voldemort's side as a Death Eater. It is possible that he has been imprisoned in Azkaban, because isn't appears as the dead.
Ad blocker interference detected!
Wikia is a free-to-use site that makes money from advertising. We have a modified experience for viewers using ad blockers

Wikia is not accessible if you've made further modifications. Remove the custom ad blocker rule(s) and the page will load as expected.