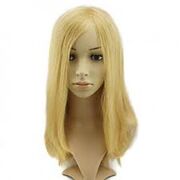 Blond
 (male), 
blonde
 (female), or 
fair hair
, is a hair colorcharacterized by low levels of the dark pigmenteumelanin. The resultant visible hue depends on various factors, but always has some sort of yellowish color. The color can be from the very pale blond (caused by a patchy, scarce distribution of pigment) to reddish "strawberry" blond or golden-brownish ("sandy") blond colors (the latter with more eumelanin). On the Fischer–Saller scale, blond color ranges from A (light blond) to O (dark blond).
Ad blocker interference detected!
Wikia is a free-to-use site that makes money from advertising. We have a modified experience for viewers using ad blockers

Wikia is not accessible if you've made further modifications. Remove the custom ad blocker rule(s) and the page will load as expected.